Things You Should See During Your Stay
The Beaches
The Space Coast offers 72-miles of sun-bronzed Atlantic shore with protected wildlife refuges flourishing along the surf.
Historic Cocoa Village
This quaint shopping area is a 100 year-old town which has boutique shops that can satisfy most any interest. The Bath Cottage has any kind of unique gifts, fragrances, and surprises or get a cappuccino (or a large sundae) and chill out under the pagoda - unless there is a
live band playing. See the 100 year old Porcher (por - chay') House. Let the kids play in the large playground. Enjoy! Great locations include The Pear Tree, Frankly my Dear, Pub Americana, Ryan's Pizza, Cafe Margaux, Contemporary Concepts, Ossorio, Ventana, Green Apple Boutique, Champagne Taste, and Mango's just to name a few.
Ron Jons Surf Shop
Ron Jon Surf Shop in Cocoa Beach-World's Largest Surf Shop and Ron Jon's "One of a Kind" flagship facility-encompasses 52,000 square feet and is filled floor to ceiling with everything for the beach lifestyle. Recognized worldwide as an icon of the surf and beach lifestyle, Ron Jon offers the widest selection of surf, skate, swim and beach essentials on earth! Whether this is your first beach vacation experience or you're a well-seasoned beach bum, you'll find everything you need.
Kennedy Space Center
Your Space Coast vacation is not complete without a trip to Kennedy Space Center. The only place on Earth where you can tour launch areas, meet an Astronaut, see giant rockets, train in spaceflight simulators, and even view a launch. Since you may be in Algiers or Zanzibar; you may not have heard of the Space Coast. The Space Coast is located about halfway down the eastern peninsula of Florida at 28o N. Lat. 78o W. longitude and generally considered in the political division as Brevard County. Brevard County is surrounded by water: Atlantic Ocean to the east, St. Johns River to the west. Narrowly connected to Volusia County to the north where the Daytona International Speedway is located. Orlando/Orange County is located to the west where Disney, Universal, and other attractions are known around the world. Indian River County is located to the south where Vero Beach & Ft. Pierce are located. St. Augustine - the oldest city in the US and Jacksonville are about 150 miles (250 km) to the north, St. Johns mouth Miami 200 miles (333 km) to the south.
Click here to book your golf vacation now or call our Golf Vacation Packages Specialists at (800) 530-5247.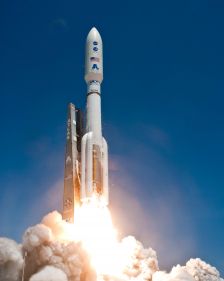 NASA John F. Kennedy Space Center (KSC) is located on the Merritt Island Wildlife Refuge 100,000 Ac (9999 Hectares) between the Indian River (Intracoastal Waterway) and the Banana River. Both Rivers are actually lagoonal estuaries with a wind driven current, hardly affected by tidal action. Port Canaveral, the second busiest cruise Port is adjacent to Cape Canaveral Air Force Station 25,000 Ac. (99999 Hectares) which is in turn joined to Kennedy Space Center and to Merritt Island by man made causeways.
Before NASA came into being there was the Atlantic Missile Range where the US Air Force tested early missiles. There was the "never go" Navajo and another air breathing jet engine "Snark". Some comedians referred to Cape Canaveral as a land mass surrounded by "Snark infested waters." The Naval Research Labs launched the Vanguard in a race with the Army's Ballistic Missile Labs to orbit a satellite. The Army won and in 1957 Eisenhower's message was broadcast from space. The free world and Russia were in a technical and public relations race at this time and Sputnik won out followed by the US. On July 29, 1958, President Dwight D. Eisenhower signed Public Law 85-568 that established the National Aeronautics and Space Administration (NASA). T. Keith Glennan was sworn in as the first administrator of NASA on Aug. 19, and on Oct. 1, the new agency began operation with the mission to perform civilian research related to space flight and aeronautics. Fast forward to today and a visitor can see the Rocket Garden, IMAX movies of spectacular visual and audio technology. Sometimes a current day Astronaut will be available for lecture. Sometimes in 2005 the US effort to "return to flight" for the Space Shuttle will occur. We hope that you are playing a round of golf when you see this happen.
Merritt Island Wildlife Refuge(MIWF)/Canaveral National Seashore
Our Executive Director was acquainted with an "old timer", a fisherman (Worley) who had homesteaded his residence on Merritt Island many years ago. Gill netting, fishing with an entangling net, was still allowed in the early days of the Space Age and Worley took the ED and boys on a night time fishing trip. Worley told of fishing in the Merritt Island Refuge years before when he only had a kerosene lantern, gill nets, floats and a one man powered skiff. After enduring the mosquitoes for a night, he started retrieving his net loaded with mullett (a vegetarian fish). Worley pulled and pulled and something would not let his net go. He assumed it was hung up on a tree stump. As he got closer he saw the red eyes of a large black bear who was pulling on the other end of the net and eating his fish as fast as he could. Worley left fish and net and said good night to the bear pulling with all his might in his one man row boat. Worley has gone on to the Big Fisherman in the sky, gill nets are not legal any more and black bears are never seen any more either.
In the early 1960s the Kennedy Space Center was established on part of Merritt Island. Not all the land was needed for the space program, and two other agencies were invited to help manage the area. In 1963, the U.S. Fish and Wildlife Service, in cooperation with NASA, established the Merritt Island National Wildlife Refuge as a sanctuary for wintering water fowl. With the creation of Canaveral National Seashore in 1975, the National Park Service took on the dual responsibility of preserving the primitive barrier beach while providing for public enjoyment of its resources. Thus three different governmental agencies have joined to ensure the proper mesh of the Nation's highly technical space program, wildlife management, and public recreation.
Bird life abounds on Merritt Island with more than 280 species recorded. Off shore pelagic birding is popular in the December time frame with visitors coming from long distances to view the birds that never come to land. Gulls terns, sand- pipers, herons, egrets, ibises, pelicans, and osprey provide a colorful array of movement and song. The patient birdwatcher may also get to see the majestic flight of the bald eagle, the comical dance of the reddish egret or the colorful display of the roseate spoonbill. The best time of day to observe birds and other wildlife is the early morning and late afternoon. Shallow marshes along the border between water and upland areas and along the beach and dune line are excellent places to find birds. Not all wildlife is as evident and spectacular as some of the birdlife, but patience and luck will pay off with glimpses of other animals. The ghost crab is one creature dependent on both land and sea. Although of marine origin, this nocturnal scavenger lives in burrows on the upper beach and dunes. These same beaches serve as nesting sites for giant loggerhead turtles and green sea turtles during summer nights. By morning, only a bulldozer-like track remains to mark the turtles' route.
A variety of other amphibians and reptiles inhabit the dunes and the sand scrub community behind them, where prey is plentiful. Vividly marked pine snakes and king snakes are sometimes seen, as are diamond-back rattlesnakes and harmless box turtles. American alligators, symbols of the subtropics, often bask in the sun at the edge of the inland waters. Raccoons, bobcats, and armadillos roam throughout the area and are sometimes seen along park roads. Whales and dolphins are occasionally sighted offshore, while manatees, or sea cows, live in the waters of Mosquito Lagoon and Indian River. Several of the nation's endangered and threatened wildlife species are found at Merritt Island. These include the southern bald eagle, peregrine falcon, scrub jay, manatee, eastern brown pelican, Atlantic salt marsh snake, eastern indigo snake, wood stork, and the green, ridley, leatherback, and Atlantic loggerhead sea turtles.
Banana River Naval Air Station, Patrick A.F.B.
The area now known as Patrick Air Force Base (PAFB) was purchased during the early stages of WW II. Originally it was used by the Navy as a seaplane base and converted to the guided missile research range in thelate 1950's. PAFB has continued as the Headquarters for the Cape Canaveral launch operations. The launch operations name has changed several times from Atlantic Missile Range/Air Force Eastern Test Range, etc.
Port Canaveral Cruise Terminal & Boats Featuring Victory Casino Lines
Adjacent to Cape Canaveral is the Port Facilities. This is a busy Port which is the second busiest cruise terminal in the US. Disney operates two boats, Norwegian Cruise Lines, Carnival, Royal Caribbean, and other cruise lines contribute to the "second busiest" title. The US Navy has a submarine base, cement, scrap iron, freezer food stuffs, etc. contribute to the commercial trade. Individual charter boat operators (about twenty) operate out of the Port for day fishing trips. Sea Legs is a 33 ft. boat which can carry six passengers for these trips. Another larger vessel carries fishermen on day trips for bottom fishing and is referred to as a "head boat". Also leaving from Port Canaveral is a casino cruise ship operated by Victory Casino Lines. The morning and evening casino cruises last about four hours each, and sail outside the three mile line where they circle for the duration of the cruise. Full gambling games are offered for those interested and a good view is available of Cape Canaveral and the beaches.
Click here to book your golf vacation now or call our Golf Vacation Packages Specialists at (800) 530-5247.